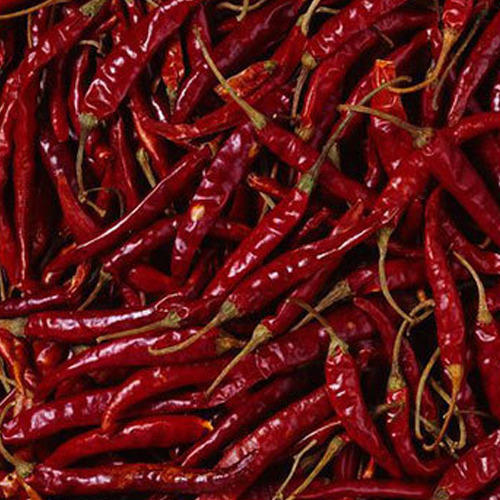 In reality, it is interesting to note that red chilli is the berry-fruit of plants from the genus Capsicum which in turn are members of the nightshade family, Solanaceae. The substance Capsaicin and its compounds capsaicinoids give the chillis their intense flavour and smell when ingested or applied topically.

The story of the chilli peppers is fascinating. The chilli peppers are actually native s to Mexico. After the Columbian Exchange took place, their journey across the globe began. It was then that their numerous cultivars were developed and spread across the world to be used both as a food and as traditional medicine. Upon reaching the Caribbean, Christopher Columbus and his crew encountered them and gave them the term "peppers" because of its spicy and hot taste.

The Portuguese traders introduced the chillis to Asia which they identified as a potential big market because of its flavour. It came to India at the end of the 15th century and from then on the Red Chilli Suppliers of India picked up the trade efficiently.

International and Domestic Production
China is the leading producer of green chillis in the world, supplying half the total global markets with its production. One-ninth of the total global production of chillis is the dried variety whose market is led by India with 36% of the total world supply.
India has a huge chilli production of its own with Telangana leading and Punjab following in the 7th position production wise. Red Chilli Suppliers in Punjab are making the most of it with their own home production.

Nutritional Values of Chillis
The red variety of chillis contains substantial amounts of Vitamin C, while the other varieties contain provitamin A beta-carotene. Additionally chilli peppers are a rich source of Vitamin B6. Chilli peppers are a source of energy, carbohydrates, sugars, dietary fibres, protein, small amounts of fat, minerals like iron, magnesium and potassium, water and capsaicin. Such a wide array of nutrients all packed into those little berries is an amazing thing in itself.

Health Benefits of Red Chillis
The health benefits of Red Chillis are amazing for such a small berry that it is. They are popular not only as a culinary delight but also works wonders on the human body. Today we will look at some of those benefits.

1. Improves Digestive Health and Metabolism: Capsaicin strengthens gut health and aids weight loss. Contrary to popular belief, chillis help in treating stomach ulcers. The powder form is rich in antioxidants and soothes stomach problems. Peppers also speed up metabolism.

2. Soothes Migraines: Capsaicin helps in treating headaches and migraines by desensitizing the trigeminal nerve and decreasing CGRP which are responsible migraines.

3. Good Antioxidant and Anti-Inflammatory Agent: Chilli peppers are good antioxidants and anti-inflammatory agents. They help to fight and guard against many diseases like leukemia, cancer, maintains healthy respiratory, intestinal and urinary systems, boosts the immune system, congestion and allergies, chronic sinus.

3. Anti-fungal Properties: They have good anti-fungal properties and can kill pathogens in food and cure inflammatory bowel diseases.

4. Relieves Joint Pain: Capsaicin desensitizes the pain receptors and helps to reduce joint and arthritis pains, shingles and HIV and diabetic neuropathy and psoriasis.

There are numerous other health benefits of the chilli peppers. It is no wonder why the Red Chilli Suppliers are working double hard to maintain their standards and keep up the steady supply of the product in the Indian markets.